SDS-max cartridge
Librarian
SDS-MAX CARTRIDGE

The SDS-max system is the second most common in the world after the SDS-plus standard. It is used in medium and heavy professional perforators or jackhammers. Like SDS-plus, this standard simplifies the process of handling equipment and protects the cartridge itself from harmful impact.
PRINCIPLE OF OPERATION OF THE SDS-MAX MECHANISM:
There are five grooves on the landing rod - two of which are closed at the end, and three are open.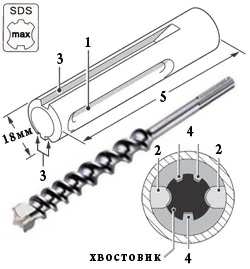 The operating principle of the SDS-max mechanism
1. two closed, oval grooves of semicircular section;
2. locking segments for fixation;
3. three open trapezoidal sections;
4. internal guides of the SDS-max cartridge;
5. The length on which the rod is inserted reaches approximately 90 mm.
This standard was developed before 1989 and began to be produced in 1990. Optimized for 18mm diameter shank, for drilling holes larger than 20mm (shank inset approx. 90mm; wedge contact area is 389mm?).
Works of a perforator with an SDS-max cartridge